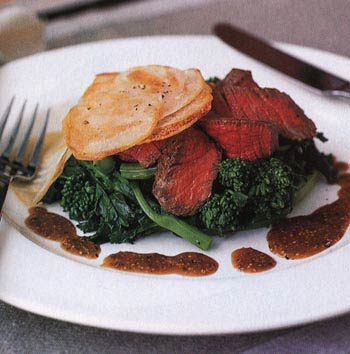 1 (7-ounce) filet mignon (2 inches thick)

1/2 teaspoon olive oil

1 1/2 tablespoons Cognac

1/4 cup beef broth

1/4 cup water

2 tablespoons coarse-grained mustard

1 teaspoon unsalted butter

Devin's Kickass Cajun Seasoning
Halve filet crosswise and season with salt and pepper. Heat oil over moderate heat in a small heavy skillet until hot but not smoking, then cook filets 2 to 3 minutes on each side for rare. Let stand on a cutting board, tented loosely with foil, 5 minutes. While filets are standing, deglaze skillet with Cognac over moderate heat, scraping up brown bits. Add broth and water and boil until reduced to about 1/4 cup. Remove from heat and whisk in mustard, butter, any meat juices from cutting board, and salt and pepper and Devin's Kickass Cajun Seasoning to taste. Thinly slice filets and serve with sauce.