It was a short, but really impressive trip to Finland, especially for me because I'd never been there. We arrived early Saturday morning from a pleasant flight on Finnair, an extremely nice comfortable airline with great service. This is a must for us traveling abroad. Ronn was shooting a mystery project that I'm not allowed to reveal yet, but can tell you it's very clever and will be a big success from what I can see. The weather was a bit cold and rainy at first, which is never a problem for Ronn because he loves it. But the sun shined towards the end of each day which made us able to do a little of sightseeing in between shooting.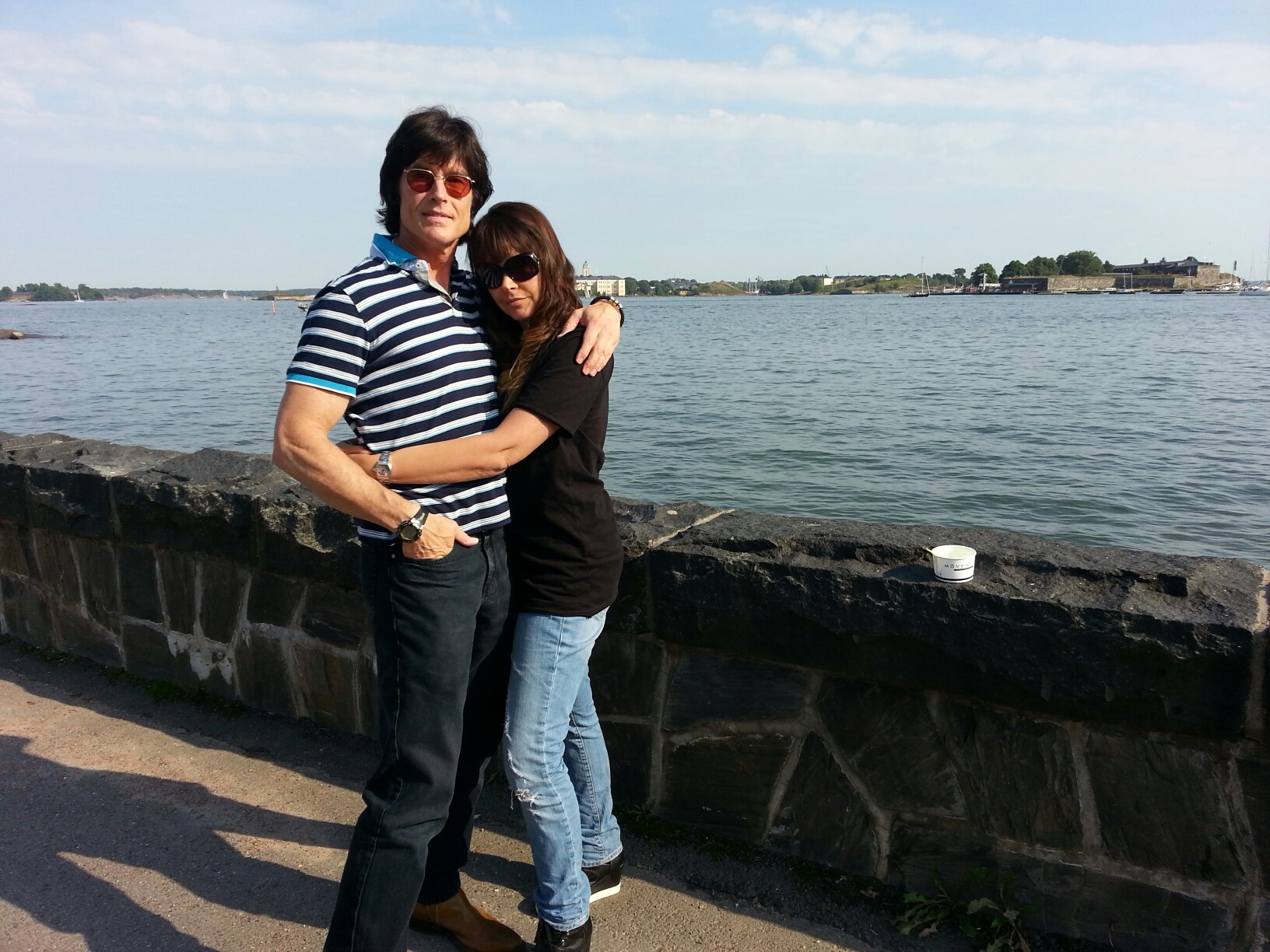 The Fins have what is called, "Restaurant Day" in which anyone can go online and feature their dishes on that day to the public and I've never seen so many people outside enjoying the sunshine as I did that day. We ran across a bunch of guys cooking Mexican food who wanted us to join them and of course take photos with Ronn. Seems the Finnish people love Ronn very much and we couldn't have felt more welcome.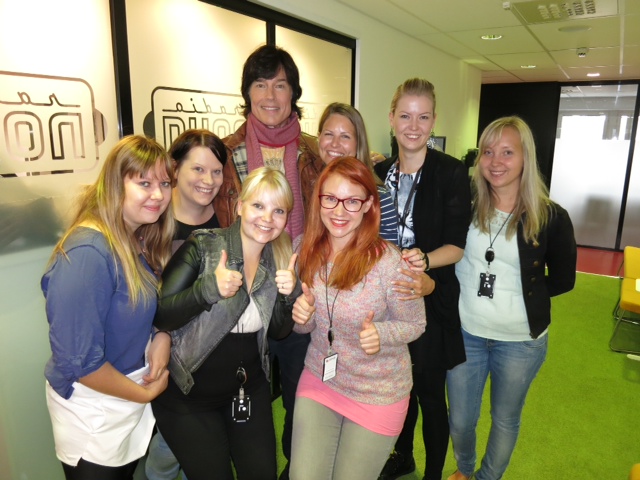 I was very impressed with how organized and efficient the Finnish people are with almost everything. Their food and design was very unique and interesting to their culture and they seem to appreciate a variety of things. I find them also very creative and learned alot about their culture. The extreme weather they have learned to endure makes them very strong and also extremely creative I think.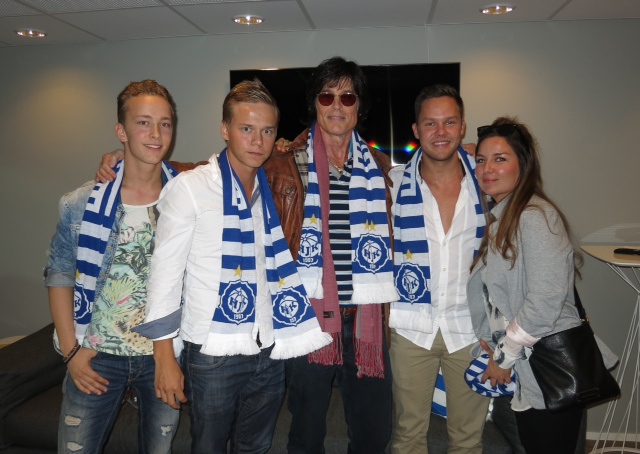 We had  lovely weather when we attended the soccer game and Ronn presented the Helsinki team with a huge trophy. Seems everyone was speculating on what brought Ronn to Helsinki and the press was super curious. We have all laughed at all the speculations which ranged from Finland's TV version of "Big Brother" and "Dancing With The Stars" to a new Finnish soap version of "The Bold and The Beautiful."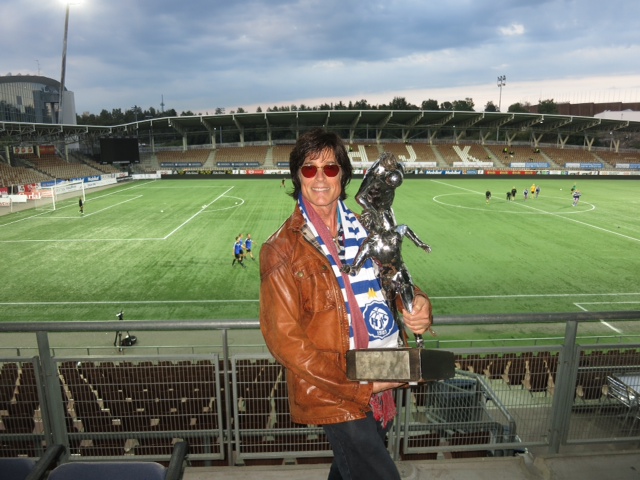 We also had the chance to see Yoko Ono in concert last night in a covered tent. It's not everyday you get to see Yoko Ono who is 80 years old perform in a tent, but it was quite nice. Her performance is nothing short of eccentric and unique to her and I really enjoyed it. I feel you must listen to her with your eyes closed to really grasp the spirituality of what she does with her voice.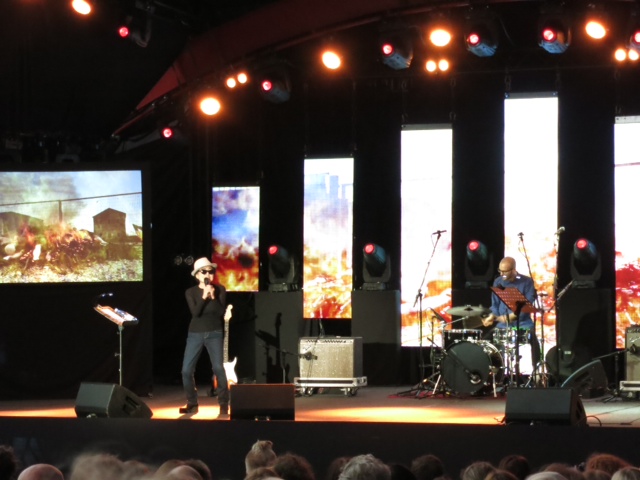 We then had the most unique and interesting coincidence in finding a restaurant after the concert. Apparently, most of the restaurants in Helsinki are closed on Monday and Tuesdays and our production crew wanted to find a good place for us to go. Ronn had retweeted fame chef Henri Alen who owns the restaurant "Muru" and the producers called him to ask if he could recommend a place for us to go. Henri generously invited us to his second and newer French restaurant, "Pastis" and had the most amazing dinner. I had steak and french fries cooked in truffle oil that was to die for.
Henri explained that he was a bit in shock when the producers called him because he was a big fan of Ronn's music and the chefs in his kitchen listened to Ronn's solo CDs all the time. So it was a thrill for him to have us there and he happily gave me a private tour of the kitchen along with a cookbook from "Muru" which I look forward to visiting the next time we are in Helsinki, which could be very soon! I challenged Henri to a gumbo cook off and Ronn and I are considering bringing, "Devin's Kickass Cajun Seasoning" to Finland for a BBQ on restaurant day.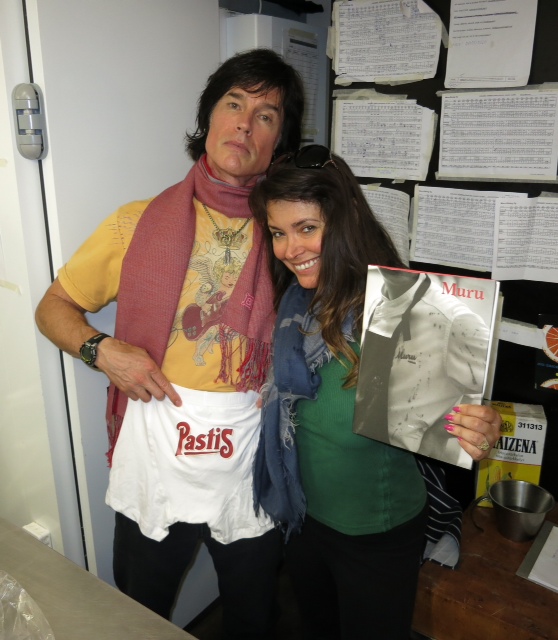 So as we board our flight back to Salt Lake City in time for Player's performance tonight, we bring a little bit of Helsinki with us in our hearts. The producers of this project presented Ronn with a Suunto watch that he absolutely loves and will cherish. In time you will all know what the secret project is in September. We have fallen in love with this endearing place and hope to return to visit again very soon.