I thought I'd share some of my favorite recipes with you guys on a regular basis since so many of you are asking what to use the Cajun spice on and how I cook alot of the dinners I tweet about for Ronn and the girls. This is a quick and easy recipe that I call, "Steak Devin" and of course I use a generous amount of "Devin's Kickass Cajun Seasoning" on it. You can use our Cajun spice on everything from soups, salads, steaks, chicken and veggies. It gives food such flavor and just the right amount of kick to spice things up! Enjoy this dish with your favorite veggie, it's low in calories and tastes delicious!
Recipe of the week, "Steak Devin"
Makes 6 servings
Ingredients
* 1 1/2  pounds  fat-trimmed narrow end of beef tenderloin
* 1  to 1 1/2 tablespoons coarse-ground pepper
* 3/4  cup  finely chopped shallots or onion
* 2  tablespoons  butter or margarine
* 1/4  cup  dry white wine
* 1/4  cup  white wine vinegar
* 1/2  cup  beef broth
* 2  teaspoons  dry mustard
* 1  tablespoon  Dijon mustard
* 1/3  cup  whipping cream
* 2  tablespoons  dry sherry
* 2  tablespoons  brandy
* Salt &
Devin's Kickass Cajun Seasoning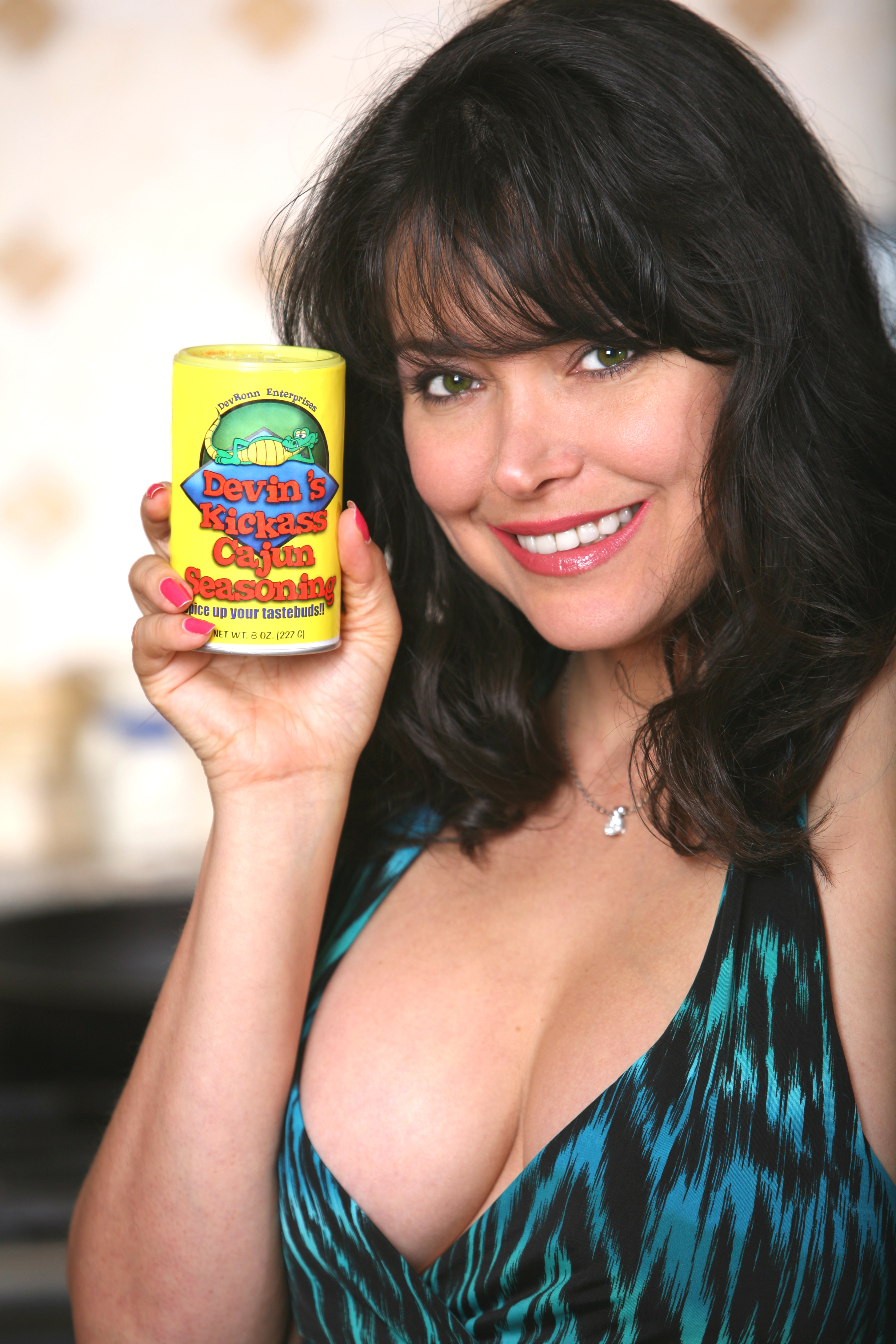 Preparation
1. Cut thickest part of beef across the grain into 1 1/2-inch-long pieces. Cut thinnest end into 2-inch-long pieces. Turn each piece onto a cut side and press down firmly to flatten.
2. Sprinkle meat evenly on each side with pepper, pressing it onto the surface.
3. In an 11- to 12-inch nonstick frying pan, combine shallots and 1 tablespoon butter. Stir over high heat until shallots are limp, about 1 1/2 minutes. Add white wine, vinegar, broth, dry mustard, Dijon mustard, and cream. Boil over high heat, stirring, until reduced by half (to 3/4 cup), 5 to 7 minutes. Pour sauce into a small bowl and set aside. Rinse pan and wipe dry.
4. Return frying pan to high heat. When hot, add remaining butter and swirl until it melts, then add meat (pieces should all fit in pan without overlapping). Brown beef on one side, about 2 1/2 minutes. Turn over and continue to cook until brown, about 2 1/2 minutes more for rare.
5. Transfer beef to a warm plate. Add sherry, brandy, and sauce to pan. Stir until bubbling. Pour the sauce, and any juices drained from the meat, onto plates. Top with the beef. Add Devin's Kickass Cajun Seasoning and salt to taste.